To już będzie ostatni górzysty akord na tegorocznej Vuelcie i zarazem ostatnia szansa na odwrócenie losów wyścigu. Wczoraj po śmiałym ataku, zwycięstwo odniósł Francuz z grupy AG2R Alexis Gougeard, ale dzisiaj młody kolarz nie powtórzy raczej tego wyniku. W sobotę walczyć będą liderzy.

Kapitan Tinkoff powiedział po wczorajszym etapie, że w końcówce 19. etapu troszkę zabrakło mu sił. Ta wypowiedź mogła budzić obawy polskich kibiców co do losów dzisiejszego, ale mnie jakoś niespecjalnie to martwi. Po pierwsze Rafał jedzie ten wyścig bardzo asekuracyjnie, a to może oznaczać tylko jedno. Stawia Polak wszystko na jedną kartę i dzisiaj o ile dopisze pogoda ruszy do przodu po podium! Nic tak naprawdę nie jest pewne na tym wyścigu. Największym bowiem rywalem do laur stanął mu nie tak jak zamyślaliśmy Tom Dumoulin, lecz Joaquin "Purito" Rodriguez. Do Hiszpana Polak traci ponad minutę, co wydaje się nie do odrobienia. Przy śmiałym ataku i morderczej pracy gregarios jednak, można w końcu na podjazdach zostawić Holendra i dzięki temu wywalczyć trzecie miejsce. O taktyce powiemy trochę później. Najpierw kolarze będą mieli do pokonania 2 razy wielkie wzniesienia na których ustawiono premie I kategorii Puerto de Navacerradę, Puerto de la Moncuera i dodatkowo raz Puerto de Cotos.
Trochę wypada żałować, że start tego piekielnego etapu rozpoczyna się w San Lorenzo. Niestety z uwagi na relację telewizyjną, nie zobaczymy raczej wspaniałego kompleksu pałacowego królów hiszpańskich.
Meta odcinka znajduje się co prawda w oddalonej zaledwie o siedemnaście kilometrów Cercedilii, ale po wyjeździe z miasta peleton czeka straszna runda, podczas której przejadą 3 masywne wzniesienia sięgające ponad lub prawie 1800 metrów n.p.m. Są to słynne szczyty Vuelty: Puerto de Navacerrada, Puerto de Cotos, Puerto de la Morcuera.
Profil Etapu
Etap liczy sobie łącznie 175 kilometrów i 800 metrów. Już po wyjeździe z Cerdedilii, momentalnie peleton zacznie się wspinać na Puerto de Navacerradę.
Puerto de Navacerrada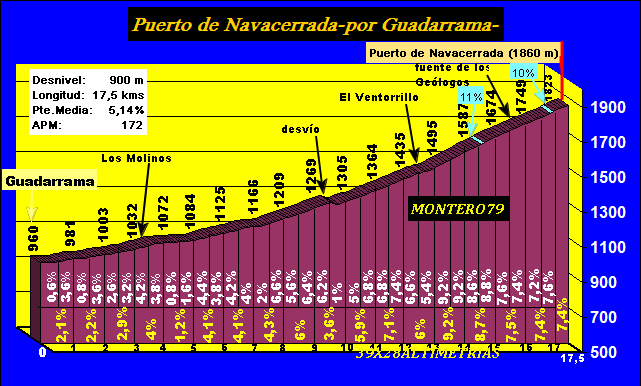 Jak widać wzniesienie liczy sobie ok. 1860 metrów n.p.m., a podjazd ma 17,5 kilometra. Na początku jest w miarę płasko, lecz przy samym szczycie nachylenie wynosi ponad 10 %. Między 15 a 16 kilometrem jest też odcinek 11 %.
Stamtąd kolumna ruszy na północny wschód w kierunku Puerto de la Morcuera.
Puerto de la Morcuera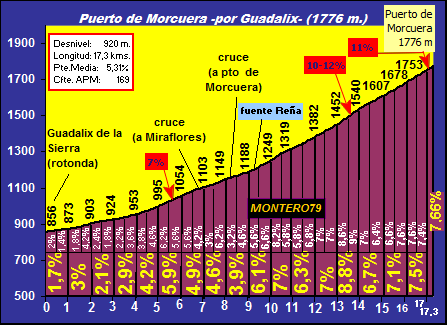 Jak widać podjazd wynosi 17,5 kilometra. W odróżnieniu do Navacerrady, to już na początku wspina się trochu trudniej. W połowie są odcinki o nachyleniu 7 %, a tuż przed szczytem niektóre dochodzą do 12 %. Puerto de la Morcuera liczy sobie ok 1776 metrów n.p.m.
Potem peleton robi dużą pętlę i zawraca, aby ponownie się wspinać na Morcuerę.
Stamtąd po 10 kilometrowym zjeździe, rozegrany zostanie finisz lotny a potem prawie natychmiast kolumna zacznie się wspinać na Puerto de Cotos.
Puerto de Cotos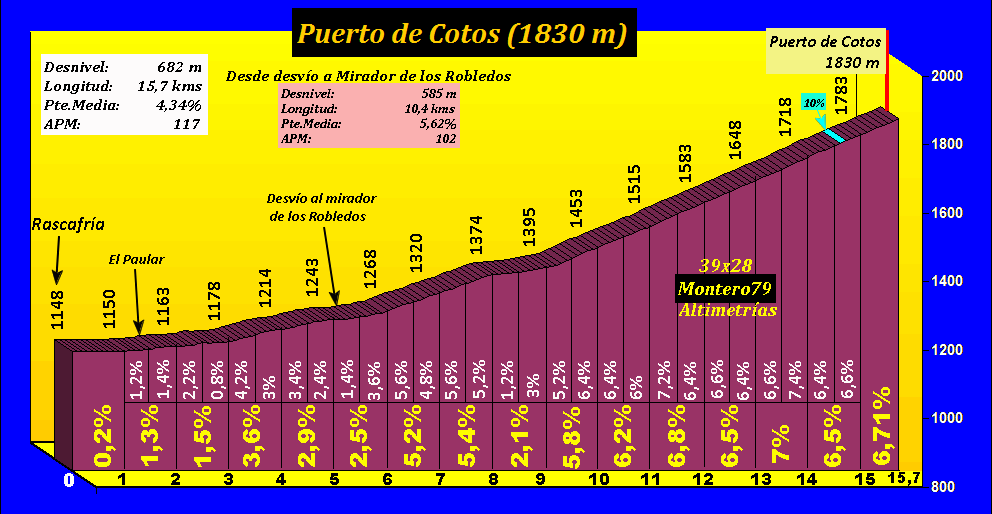 Sama góra liczy sobie ok. 1830 metrów n.p.m. a podjazd wynosi nieco ponad 15,5 kilometra. Na pierwszych tysiącach metrów jest płasko, lecz potem nachylenie wynosi ok 10 %. Nie ma jednak zjazdu, tylko zboczem kolumna pojedzie do Navacerrady, a następnie prawie 9 kilometrowym zjazdem podąży do mety w Cerdedilii. Miasteczko słynie z nietypowego jak na Hiszpanię ceglanego budynku stacji kolejowej.
Ostatni kilometr jest nieco pod górę!
Taktyka
Trzeba postawić wszystko na jedną kartę! Już nie ma mowy o asekuracyjnej jeździe. Jeżeli Rafał Majka poważnie myśli o sukcesie na Vuelcie (podium), musi koniecznie oderwać się od grupy liderów na podjeździe pod Cotos. To wzniesienie bowiem wydaje się być kluczowym na etapie. Tam po prostu trzeba być cały czas z przodu.
Na takich odcinkach można zastosować taktykę tzw. stacji przekaźnikowej gdzie kolega z grupy będący w ucieczce pomaga potem liderowi, lub prowadzić tak szaleńcze tempo na podjazdach, aby nie było ucieczek. Słabsi kolarze zostaną wtedy z tyłu i grono konkurentów do wysokich miejsc drastycznie się obniży. Wszystko jednak w dużej mierze zależy wbrew pozorom nie od liderów tylko pomocników. Jeżeli czują się doskonale, są w stanie zgubić obecnego lidera Toma Dumoulina. Taki ma plan z pewnością Fabio Aru, Joaquin Rodriguez, Rafał Majka czy Nairo Quintana. Gdy uda się zostawić Holendra na podjeździe, o podium Rafał Majka powalczy wtedy z Nairo Quintaną i nie jest w tej walce bez szans!
Dziś się wszystko rozstrzygnie. Jeżeli Rafał Majka zebrał spory zapas sił na dzisiejszą "rzeźnię", to Polak zaatakuje. Jak go nie dogonią, to przejdzie ten chłopak
do historii polskiego kolarstwa i osiągnie po złocie Michała Kwiatkowskiego, srebrze Zbigniewa Sprucha na MŚ i podium Zenona Jaskuły w Tour de France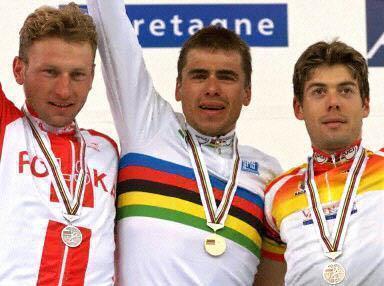 największy sukces kolarza z nad Wisły w zawodowym peletonie.
Etap 3D